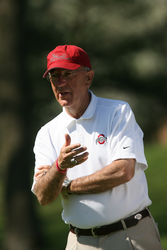 Jim Brown
A native of Martins Ferry, Jim Brown excelled in both sports and academics. After winning four letters in basketball and golf, he was awarded a full scholarship to Ohio State University in those two sports and continued to win various honors including being No. 1 man on the golf team for four years and captain during his senior year. The Martins Ferry High School graduate earned degrees from Ohio State and Rollins College.
After serving as head golf coach and assistant basketball coach at Rollins and later at Kent State University, he became the Buckeye?s head golf coach in 1972. Brown held the head coaching position at Ohio State from 1973 through 2009. In fact, no other individual was head coach of any sport for a longer span at the university. Brown is also the longest serving head coach of golf in Big Ten history.
Brown was NCAA National Coach of the Year twice, Big Ten Coach of the Year four times, and District 4 Coach of the Year 10 times. His teams made 32 NCAA appearances in 36 years and earned 11 NCAA top 10 finishes as well 158 team tournament victories, the most in NCAA history. Golfers coached by the former Martins Ferry man included 51 All American selections, 91 All Big Ten selections, 11 All American Scholars and 56 Academic All Big Team Selections.
Brown served as president of the Golf Coaches Association of America. He coached a team that won the 1979 National Championship, and his teams earned 17 Big Ten Championships. He coached 19 players who went on to play on the PGA tour.
*****
?
Harold Meyer
Meyer's work in Martins Ferry began in March 1949 when he became high school principal. In 1950, he became the superintendent of schools and continued to serve in that post before his appointment as assistant commissioner of the Ohio High School Athletic Association.
During his work in the Dennison and Martins Ferry schools, Meyer earned a master's degree from Ohio State and a doctorate in education from the University of Pittsburgh. Additional graduate work was done at the University of Michigan.
Before becoming assistant commissioner of the OHSAA, he served for 12 years on the Eastern District Board of Control, including work as president and secretary during his tenure. He was on the State Board of Control from 1958-60.
Meyer in 1960 became the first Ohio representative on the Federation Executive Committee of the National Federation of State High School Athletic Associations.
While serving as OHSAA commissioner for eight years, he oversaw the construction of a new headquarters and office facility at Roselea Place, Columbus, currently its present location.
Meyer was instrumental in promoting athletics for female students. He hired the first woman assistant commissioner, established the first girls' basketball tournament and oversaw a large increase in the scope and numbers of participants in girls' high school athletic programs. He served on the U.S. Olympic Committee for women's track and field from 1968-72 and also served on the U.S. Baseball Federation and the Competition Committee of the National Federation of High School Athletic Associations.
Under Meyer's direction, the number of classifications of high schools increased from two to five in the interest of promoting open and fair competition. He began a system of high school football playoffs and introduced televised games. He also developed a computerized rating system which allowed for rankings to be publicized. He oversaw a period of considerable growth in the number of sports and the number of participants which came under the umbrella of the OHSAA.
*****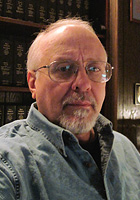 David Roth
A graduate of Martins Ferry High School in 1970, Roth went on to graduate summa cum laude from Ohio University with a bachelor?s degree in accounting. In 1982, Roth and his wife, Robin decided to publish the Blue & Gray Magazine. The magazine received high accolades from the start. It earned the Southern Heritage Award from the Military Order of the Stars and Bars for preserving Southern history as well as the John Newman Edwards Media Award from that organization for fair and unbiased reporting of Southern history.
The magazine is approved for wide distribution in National Park bookstores at Civil War battlefields and historic sites, and it has been endorsed by Chief Historian Emeritus of the National Park Service Edwin C. Bearss, Pulitzer Prize winning historian James M. McPherson and numerous other scholars.
Stemming from the success of the magazine, Blue Gray Enterprises Inc. publishes The Generals Books focusing on Civil War History and Travel. Roth's personal publishing credits include "The Illustrated History of the Civil War 1861-1865"; "Pictures from the Bettman Archives" and "Blue & Gray Magazine's Guide to Haunted Places of the Civil War" and contributions to other Civil War publications.
In addition to his publications, Roth served as a member of the Ohio Civil War 150 Committee. He is co-founder of the Central Ohio Civil War Roundtable, and board member of the Motts Military Museum. Roth also served on the State of Ohio Bicentennial Committee as part of the Civil War Subcommittee.
*****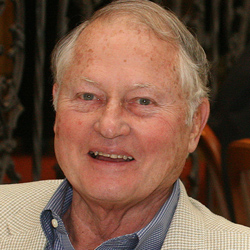 Robert Wood
A 1953 graduate of Ohio Wesleyan with a degree in business, Wood served his country as a Marine before beginning his career with the BF Goodrich Company.
Wood?s drive for success led him to become a full partner with G&T Industries in Michigan, a durable goods company with plants in three states and $50 million in sales. When his partners retired, Wood decided to sell the business to his employees, passing up larger profits in favor of the people who helped him achieve success.
Wood?s generosity didn?t end with his employees. Wood was the first to donate scholarship money to deserving students of Martins Ferry when the Chamber of Commerce began its annual academic awards banquet in 1985.
Wood and his wife Barbara who died of cancer in 2010, donated $500,000 for a cancer facility in western Michigan. A cancer survivor himself, Wood has more than 30 years of volunteer service with the American Cancer Society and was named National Volunteer of the Year in 2001. He also received the St. George Award in recognition of his service.