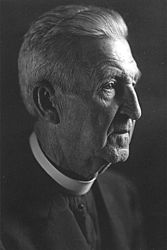 Rev. Father Charles A. Mulhearn
A native of New Jersey, Mulhearn came to Martins Ferry in 1898 to fill a vacancy created by the death of the Rev. Fr. S.S. Mattingly.
As Pastor to a growing parish, Mulhearn purchased the property which became the St. Mary Cemetery in 1900. He also pushed for the construction of the parochial St. Mary School, which was dedicated in 1924.
Mulhearn served as chaplain of the Martins Ferry Knights of Columbus from the time the group received a charter in 1909 until 1936 and then again from 1939-40.
Fr. Mulhearn believed strongly in service to the community. He was a charter member of the Martins Ferry Hospital Board of Trustees and served for 35 years as the board?s president. Also among his civic duties was his service as Chaplain to the Martins Ferry Fire Department where his work is still respected today.
*****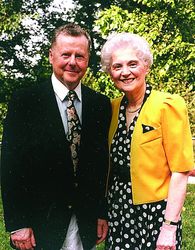 William & Angela Tolbert
Born on Yorkville, Ohio, the husband and wife team made a mark on Martins Ferry lasting for generations and continuing today.
After serving in the Civilian Conservation Corp as a teen where he worked on the Hoover Dam, then enlisting in the Marine Corp during WWII, William opened a small grocery store near Purple Rider Stadium.
Angela was an excellent student, skipping a grade on her way to becoming valedictorian of Yorkville High?s class of 1942. She went on to graduate Magna Cum Laude from Ohio State University with master?s degrees in both accounting and education and spent an extra year at OSU teaching.
In 1947, the childhood sweethearts married and lived in a home connected to their second grocery store on 8th and Walnut Streets in Martins Ferry. In 1955, the couple opened Deluxe Novelty Toy Store followed by The Young World clothing store for children. Soon after, Fashion Manor was opened specializing in clothing for women.
Through the hard work of their children, the Tolbert name lives on as a foundation in the Martins Ferry downtown area as well as through participation in civic and charitable functions.
*****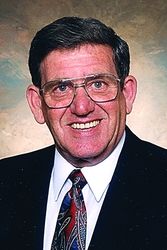 John Vrotsos
A native of Martins Ferry, ?Corky? Vrotsos will always be remembered as a visionary, disciplinarian, and pioneer. Vrotsos? life?s work was focused on shaping young people into good citizens.
In 1957, Vrotsos established the Martins Ferry High School wrestling program serving as head coach from 1957 through 1968. His teams finished ranked in the top ten in the State of Ohio on four separate occasions including fifth in the state in 1960. During his tenure, Vrotsos coached 41 Ohio Valley Athletic Conference champions and one state champion.
In addition to his success as a coach, Vrotsos is remembered and respected for his work as a teacher and guidance counselor at Martins Ferry. After his retirement from teaching, Vrotsos continued to serve the people of Martins Ferry as Recreation Director among other civic duties.