Posted on: November 11, 2012
Saturday's weather?provided a beautiful backdrop for the?Martins Ferry Veterans' Day Celebration.? Citizens lined Zane Highway as well as 4th Street for the Inaugural Veterans' Day Parade.? Bagpiper Betsy Bethel-McFarland?and the Color Guard led?the parade?which included veterans from WWII to?The War in Afghanistan.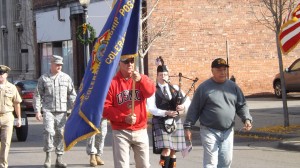 ? The Martins Ferry High School Band played patriotic music as the contingent marched toward City Park.? Also on hand were the American Heritage Girls Troop #7777 to sing a patriotic song.
The?parade concluded at City Park for a special ceremony.? Mayor Riethmiller asked all veterans in attendance to come to the front of the stage where they received a standing ovation from the large crowd on hand.
Special guest speaker Sergeant Major Lee Bonar Jr. of the United States Marine Corps delivered a stirring speech.? "This is what Veterans' Day is all about," he said.? "'Hometown USA' taking the time to thank those who served to keep us free."?
Those in attendance were asked to gather around the WWII Monument for a special unveiling.? First Ward Councilman Bob Krajnyak was introduced along with the family of Anthony S. Bumbico?who was killed during WWII.? For reasons unknown, Bumbico's name was omitted from the list of honorees on the memorial, but that changed yesterday.?
"The Bumbico family came to me recently and told me about the omission.? I told them I would do whatever I could to correct it," Krajnyak said.
"This has been a long time coming, and I want to thank Bob (Krajnyak) and the City for their help," said Sam Bumbico.
The ceremony concluded with the playing of taps by two members of the Buckeye Local High School Band.? The American Legion Post 38 provided lunch following the event.
The parade and ceremony were the idea of Martins Ferry resident and veteran?Kirk Roth.? "I wanted the City to lead the way and honor the veterans the way they deserve.? Hopefully this event will continue to grow each year."
For additional pictures of this event, click this link.